Missing most or all of your teeth makes simple tasks like chewing a daily struggle that can impact your health and self-confidence.
Dr. Stephen C. Dowell can replace your teeth and improve your quality of life with comfortable, natural-looking dentures.
Find out why patients throughout Minerva, Dover, and Carrollton, OH, turn to Dowell Dental Group for restorative dentistry...
There Is Hope for Your Smile
Thanks to Dentures by Dr. Dowell
Does it seem like there is no hope for your smile? Dr. Stephen Dowell is here to tell you that there is hope. His state-of-the-art practice can provide dentures that look indistinguishable from natural teeth while providing the balance, comfort, and functionality you need. If you have been suffering for far too long with an incomplete smile, our practice is here to help you stop suffering and start enjoying life to the fullest.
Let's Start Planning Your Dentures Treatment
If you are struggling with missing teeth, it's time to find out how dentures by Dr. Dowell can help you. Our treatment is efficient and technologically advanced. Best of all, our financing options make custom dentures affordable on virtually any budget. You can schedule a consultation at one of our conveniently located offices in Minerva, Carrollton, and Dover, OH, by calling:
Had went in for a broken tooth with pain . They took good care of me , very compassionate team and the dentist took the extra step to relieve all pain and discomfort . He removed the tooth and gave me stitches. No more pain and I am grateful for the procedure. Will be returning. Thank you .
View on Google
I phoned today to be seen as a new patient and because of the problem I was calling about, Jennifer scheduled me to come right in! Dr. Dowell listened to my concerns and addressed the problem in such a way that I know that between his approach and the wonderful way I was taken care of by his staff I have found the best fit for me and all of my dental needs!
View on Google
We've got an office near you! Click below for driving directions!
Types of Traditional Dentures
At
Dowell Dental Group
, our dentist offers a variety of denture types, allowing us to tailor treatment to your unique needs. The best denture for you depends on several factors, including your oral health, budget, and extent of tooth loss. Learn more about your dental options:
Traditional Full Dentures
If you have lost all of your teeth in the upper or lower jaws, a traditional full denture is the most affordable option. This type of dental restoration consists of a gum-colored acrylic base and a complete row of artificial teeth. The base fits over your gums and is held in place with a combination of suction and dental adhesive. Each replacement tooth is designed to look absolutely real.
Traditional full dentures typically require just two appointments at one of our Minerva-area offices. During your dental treatment, your dentist will take precise impressions, design your denture, and fit you with the finished product in a few short weeks. Your dentist will make any necessary last-minute adjustments to achieve an excellent fit and avoid gum irritation. If you are interested in learning more, please schedule a consultation with our dentist today.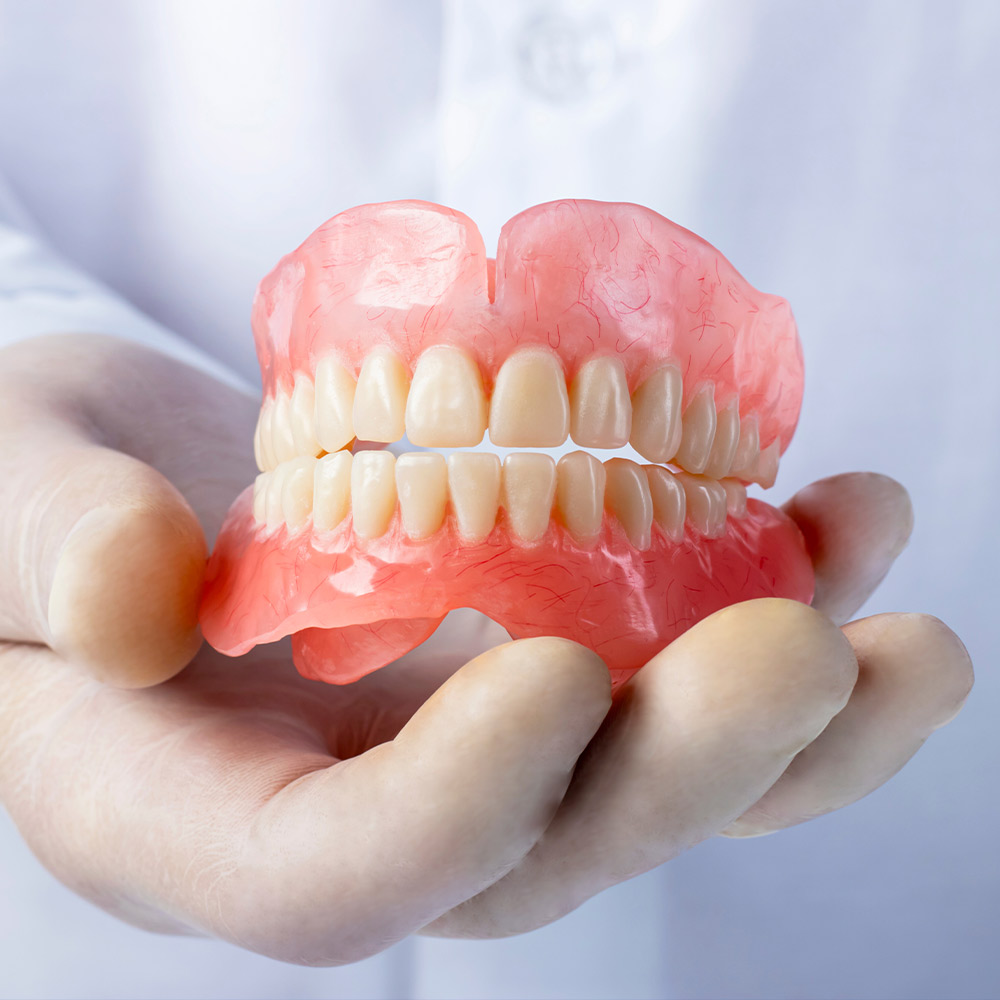 Traditional Partial Dentures
Partial dentures are designed to replace several teeth on the upper or lower dental arch. Similar to full dentures, partials consist of a gum-colored base and artificial teeth. They are supported by small clasps that attach to a metal framework secured around remaining natural teeth.
Like all dentures we provide, we will take care to make sure each replacement tooth in traditional partial dentures looks natural. This is especially important in these cases, since your partial will have to integrate with your natural teeth. As our patient, you can expect that others will notice your great-looking smile rather than your dental work.
Implant-Supported Dentures
Unlike traditional dentures, dental implant-supported dentures are secured to titanium posts embedded in the jawbone. The dental implants replace your missing tooth roots and provide many important oral health benefits. For example, implants provide the stimulation needed to stop the bone atrophy that follows tooth loss. That means you will need far fewer denture adjustments, and you won't have to worry about developing sunken facial features due to a shrinking jaw. Best of all, dental implants eliminate any denture mobility, so your dentures will feel and function just like natural teeth.
It is important to understand that dental implants require two surgeries separated by four to six months of healing time, during which the implants will become fused to the bone tissue. Meanwhile, basic insurance plans don't cover dental implants. However, most patients find that the benefits of this solution justify the investment of time and money. We are glad to help you find a way to make this dental solution a fit for your budget.
Not everyone is a candidate for dental implants. During your consultation, your dentist will thoroughly evaluate your oral health to determine if this option is right for you. Primary candidacy factors include:
Having enough bone tissue in the jaw to support dental implants
Being a non-smoker
Being healthy enough to undergo oral surgery
Having diabetes under control
Budgeting for Dentures
We Make the Solution You Need Affordable
Like many patients, you are probably wondering: Can I afford dentures? We are glad to tell you that when you choose Dr. Stephen Dowell's practice to provide your smile restoration, the answer is "yes!"
Most basic dental plans will contribute to at least a portion of the cost of dentures. If you choose a premium material (such as zirconia, which gives you excellent aesthetics and incredible durability), you will likely have to pay for some of the treatment out-of-pocket. This is also true if you elect to receive dental implant-supported dentures.
But don't worry - our financing options make these premium options affordable. We accept financing through both CareCredit and Lending Club, two third-party lenders who can help you budget for dentures through low-interest and interest-free payment plans. We also offer in-house payment plans.
Dowell Dental Group has offices in Dover, Minerva, and Carrolton to serve you.